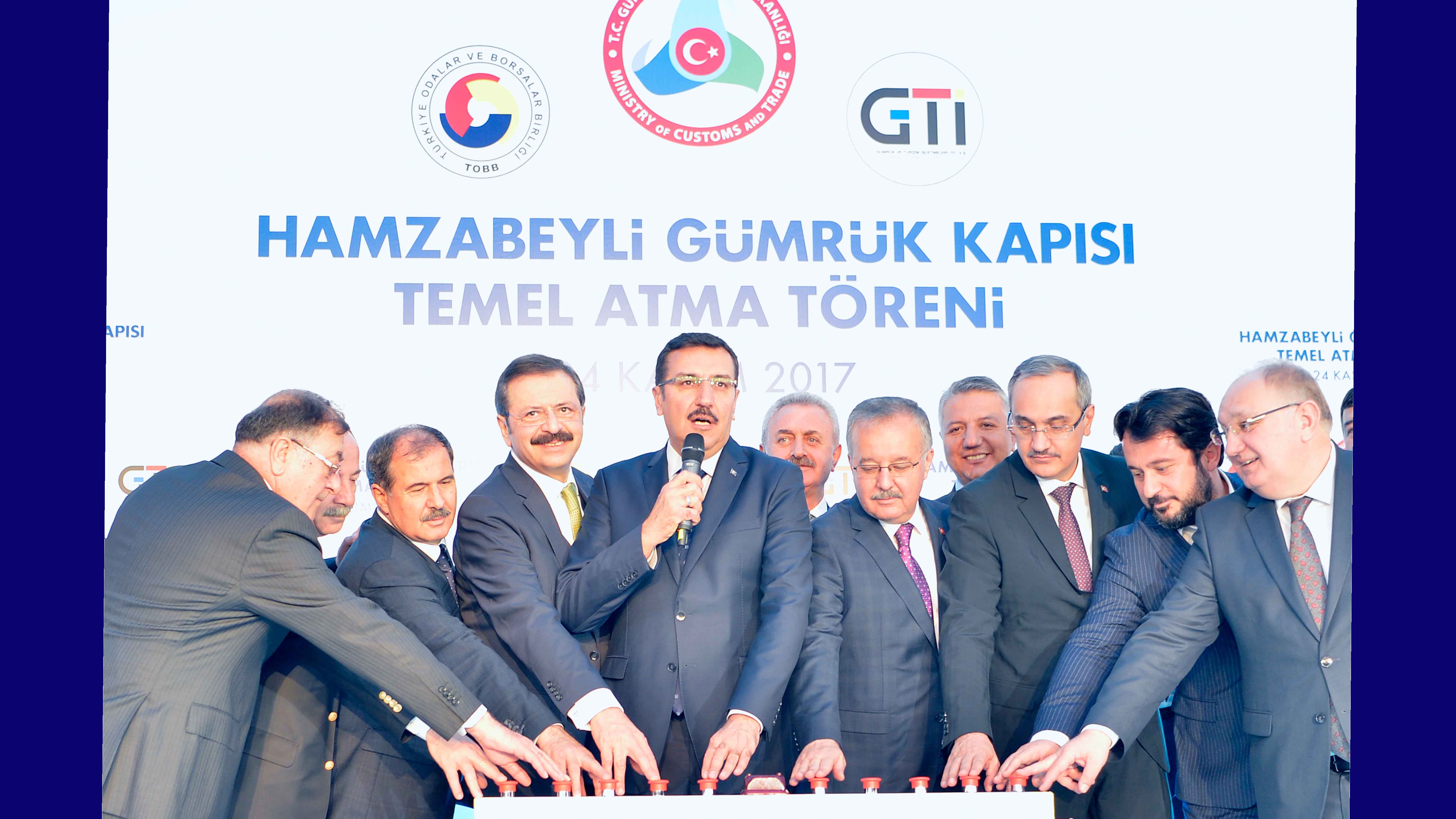 24.11.2017 / Edirne

The Hamzabeyli Customs Gate will be renovated and expanded by the Union of Chambers and Commodity Exchanges of Turkey (TOBB). An investment of approximately 150 million TRY will be made for the project. The customs gate is expected to be in service at the beginning of 2019. The renovation investment aims to alleviate the burden of Kapıkule Customs Gate and to accelerate the vehicle entrance and exit. TOBB President Hisarcıklıoğlu said that at the groundbreaking ceremony of the project, the Hamzabeyli Border Gate will be 147,000 meters square in total. "The gate will start operations at the beginning of 2019 with increased capacity."​
The groundbreaking ceremony of the Hamzabeyli Customs Gate was attended by the Minister of Customs and Trade Bülent Tüfenkci, TOBB President M. Rifat Hisarcıklıoğlu, chambers and exchanges of the neighboring provinces and districts and many businessmen.
TOBB President M. Rifat Hisarcıklıoğlu reminded that the Hamzabeyli Customs Gate was modernized by TOBB in 2009 and said, "Hamzabeyli is becoming unable to answer the needs of Edirne, Thrace and Turkey as a whole. Turkey's customs gates have grown small for Turkey. That's why we started expanding our customs gates and increasing their capacities. We started the expansion efforts at Sarp. Today we continue with Hamzabeyli."
TOBB President Hisarcıklıoğlu reported that they will invest 150 million TRY for Hamzabeyli Customs Gate and that the area of ​​64,000m2 will be increased 2.5 times. Hisarcıklıoğlu also stated that the enclosed area will increase 4 time and said, "The new Hamzabeyli Border Gate will cover an area of ​​27,000m2 and a total area of ​​147,000m2. Designed to suit the global market, our new gate will include the latest technology; x-ray, camera and access systems, electronic weighbridge and license plate reading systems. Hopefully at the beginning of 2019, the gate will start operations in its upgraded state."
Hisarcıklıoğlu stated that they invested 880 million TRY in customs gates as TOBB and the chamber-exchange community and said, "We paid 443 million TRY in taxes from the income of the customs gates. The private sector started to save 410 million TRY a year from the freight costs. So both our business community and our country won."
Hisarcıklıoğlu stated that he has visited Edirne 20 times, "We celebrate the 95th anniversary of the liberation of our capital, Edirne from the enemy occupation on November 25th. Now, in Edirne, where we are proud of our culture, we now have another good work. We are expanding our Hamzabeyli Border Gate and increasing its capacity. I would like to thank all the Chambers of the Chambers and the Commodity Exchanges in Edirne who spent a lot of work for the development of Edirne. I also congratulate the Edirne Trade and Industry Office, which built a TIR Park of 240 vehicles for the Hamzabeyli Border Gate.
Stating that Edirne is the gatekeeper to our 5 borders that open to Europe, Hisarcıklıoğlu said, "Edirne is our gate to the west, the Balkans and Europe. On the other hand, it is the first meeting point from the west to our country. Edirne is our history, culture and the treasure to be passed down to future generations. Edirne is our capital. What did we do for Edirne as TOBB and chamber-exchange community? In June 2009 we opened the gates by modernizing the Kapıkule and Hamzabeyli Border Gates. In October 2015 we completed the opening of Kapıkule TIR Park. We are building a faculty building at Edirne University. We established the Sinan and Selimiye Foundation in order to preserve Selimiye Mosque for future generations. This foundation is responsible for all maintenance and repair costs of the Selimiye Mosque. The economy has basic rules. There is money in a place if you trade. If there is money there's wealth. Our dream is to bring the trade routes back to this geography. Trade routes must pass through our country again. We are pursuing this dream. That's why we care about the revival of the historic Silk Road. As TOBB, we always act with this vision. On average we ship 40% of our exports over land. Unfortunately, we have neglected our border gates for many years. The trucks of our exporting entrepreneur were queuing for miles. We have achieved a first in the world with the positive approach and approval of the government. We started to modernize the land customs gates with build-operate-transfer model. In doing so, we did not cost the state a single cent. On the contrary, the tax revenue for the state increased exponentially thanks to the more efficient and voluminous doors.
Up to now, we have totally renovated 10 border offices for our country by using our state-of-the-art technology, Halkalı Customs Directorate and Kapıkule TIR park. We continue the modernization process at Van Kapıköy Border Gate."
- Customs and Trade Minister Bülent Tüfenkci
Customs and Trade Minister Bülent Tüfenkci also spoke at the ceremony and stressed that they aimed at making trade easier and safer in Turkey. "We are enlarging, upgrading and strengthening all our gates in accordance with the 2023 targets of our country," said Minister Tüfenkci, indicating that the Hamzabeyli Customs Gate no longer meets the needs and needs to be renewed. We are adapting the best practices to the customs and trade practices of Turkey in order to increase the competitive power of our globally competing business community. We are opening the way to 2023."
At the Hamzabeyli Customs Gate, about 1 million passengers and 500,000 vehicles enter and exit annually, Tüfenkci said, "We have 64 acres in the area at the moment. There are 7 entrances and 7 outlets serving a total of 14 bays. After the renovations are completed services will be provided in 18 bays including 9 inlets and 9 outlets on 150 acres."
GTI Chairman Arif Parmaksız also said that this modernization would alleviate the load on the Kapıkule Customs Gate. He said they planned to complete their construction work in 15 months. The Kapıkule Customs Gate Passenger Hall was also opened before Hamzabeyli Customs Gate foundation ceremony.